That's right it's the entire Not Dead Yet CD available for FREE.
Download the songs, download the cover, burn a CD or just keep it as MP3 files, and print the cover and it's yours on us as a Thank You for all the support over the years.  As an added bonus we've included 8 studio tracks not available on the original CD.  These tracks are available ONLY on the Internet Version of the CD.  It's pretty much our entire catalog of recorded songs for free.
You can listen to the entire album as you browse above or download individual tracks and cover art and cd insert, or download a zip file of all the tracks and the artwork below.
To Download click the song title for options, then RIGHT CLICK the download link and choose SAVE LINK AS or SAVE TARGET AS.
Cover Art
Cover

Tray Card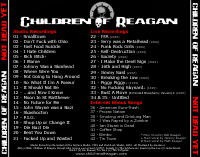 Studio Tracks
01 – Small town
02 – Don't Fuck with Ohio
03 – Fast Food Suicide
04 – I Hate Children
05 – Rich Bitch
06 – I Blame
07 – Johnny Was a Skinhead
08 – Where Were You
09 – Not Going to Hang Around
10 – So What If Im A Poseur
11 – It Should Not Be
12 – And Now I Know
13 – Moon In St Matthews
14 – No Future for Me
15 – John Wayne Was a Nazi (originally by MDC)
16 – Skashocton
17 – PIG
18 – Shut Up or Change It
19 – Die Nazi Die
20 – Beat You Down
21 – Fucked Up and Wasted
Live Recordings
22 – FFA
23 – Jerry Was A Metalhead
24 – Punk Rock Girls
25 – Self-Destruction
26 – Society (originally by The Subhumans)
27 – Devil_Sign
28 – 16th_and_High
29 – Jimmy_Said
30 – Breaking_the_Law (originally by Judas Priest)
31 – Piggy Piggy
32 – No Fucking Skynard
33 – Bust A Move – Extended Blasphemy Ver Oct 99 (originally by Young MC)
34 – The Jim Reeves Song
35 – Fuck You Fuck You Fuck You
Internet Bonus Tracks
36 – American Euro-Trash
37 – Prozac Nation
38 – Smoking and Drinking Man
39 – I Was Raped By a Zombie
40 – Ian Stuart is Dead
41 – Coffee Shop
42 – Bimbo (originally by Jim Reeves)
43 – Tin Town (originally by The Indigents)
ZIP of Entire Album including Cover Art

Downalod Zip File of Entire CD and Artwork